Italy and France Still Can't Take On Joblessness
Tweaking rigid labor laws isn't enough.
by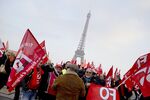 Italy's unemployment rate dropped in July, Eurostat reported Tuesday. If the improvement turns out to be a trend, the credit probably will go to Prime Minister Matteo Renzi's efforts to make the labor market more flexible, and he will be compared favorably to Prime Minister Manuel Valls of France, whose policies haven't achieved a reduction in unemployment. For now, however, the labor reforms in both countries are too tentative to be effective.