U.S. Gets Frozen Out of the Arctic
Rival powers are staking claims to territory, resources and sea lanes.
by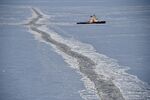 President Barack Obama should be applauded for gathering world leaders in Anchorage, Alaska, this week for a U.S.-led conference on "Global Leadership in the Arctic." Yet the summit's limited focus on climate change, though undoubtedly important, belies the significance of the broader U.S. interests and responsibilities in the Arctic region.