The Scandal That May Save Guatemala
Protests show the country is fed up with corruption.
by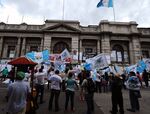 For the last 20 Saturdays, Guatemalans have streaked their faces in blue and white, grabbed their vuvuzelas and flooded the central plaza of Guatemala City. The protesters have demanded the immediate resignation of President Otto Perez Molina, who has been named by prosecutors in a multimillion-dollar tax fraud scam that allegedly lined the pockets of government higher-ups while helping favored businesses evade a fortune in import duties.