Blame Congress for Inaction on the Arctic
Russia threat may be hyped, but how would House Republicans know?
by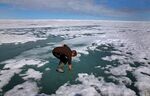 The U.S. is behind Russia and several other nations in mobilizing for the impact of the Arctic's melting, the New York Times reported this weekend. With Barack Obama in Alaska where he is speaking on the issue, the center of attention is on the president.