What If 2008 Crisis Comes Around Again?
The political will for a response may not be there this time.
by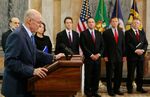 By the end of the week, stocks, currencies and commodity prices weren't crashing any longer but financial markets were far from settled. Over the past 10 days, markets have plummeted, paused, recovered and fallen again. There's little sign the anxiety is lifting.