Sports Gambling Law Is Unfair to New Jersey
But the federal courts have yet to see it that way.
by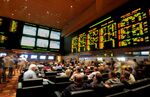 The New Jersey public, not to mention Governor Chris Christie, wants to reinstate sports gambling in Atlantic City in the hopes of reversing the trajectory of a place that "totally cratered," as Donald Trump memorably put it in the first Republican presidential debate. But the U.S. Court of Appeals for the 3rd Circuit has said no -- twice. The most recent decision struck down a state law that repealed the ban on sports gambling in Atlantic City while keeping it in place elsewhere in the state. The deciding vote came from Trump's sister, Judge Maryanne Trump Barry, who didn't recuse herself, presumably because she has no stake in Atlantic City properties.