Norwegian TV Taps Into Fear of Russia
A big-budget series reflects widespread worries about a bellicose neighbor.
by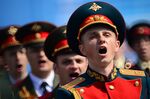 Next month, Norwegians will be treated to the premiere of "Okkupert," or "Occupied," the most expensive TV series ever produced in their country. The occupier in question is Russia, which takes over Norway for its oil. The author had the idea long before President Vladimir Putin annexed Crimea, but it betrays the unease of many of Russia's neighbors.