The Fed's Goldilocks Problem
The central bank wants markets to get used to a little more churn, but not too much more.
by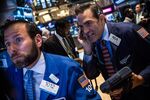 In recent days, equity markets have been whipsawed by wild and rapid fluctuations, including a 588-point decline of the Dow Jones Industrial Average on Monday (after a dizzying day of swings that spanned about 5,000 points), an exceptionally abrupt downward reversal late Tuesday, and Wednesday's 600-point intraday swing that culminated in a frantic rally to the close. The bond markets also have exhibited notable volatility: Ten-year Treasuries have traded in a 25 basis-point range in the last four days alone.
These extraordinary moves, amplified by patchy liquidity, indicate that markets are struggling to find their right levels amid uncertainties about both the health of the global economy and the ability of central bank policies to restore stability.
Responding to accumulating evidence of a slowdown in China and other emerging economies, markets have been adjusting to the notion that these countries no longer drive global growth, but instead have become drags. Yet the growth picture has not been bad everywhere. U.S. data suggest the domestic economy is continuing to heal, increasing its resilience to external headwinds.
On the policy front, even though markets are more skeptical about the longer-term effectiveness of central bank policies, they have taken note of new actions that aim to provide short-term support. Since the market debacle Monday, further stimulus measures by China  -- a mix of lower interest rates, a reduction in reserve requirements and direct liquidity injections -- have been accompanied by dovish remarks from New York Fed President Bill Dudley, who said a September rate hike is now "less compelling."
The resulting volatility, though a boon to traders and high-frequency outfits as well the broker-dealer community, is likely to get a mixed reception at the Federal Reserve.
The Fed would like to see markets gradually become less complacent about the uncertainties presented by the fluidity of the global system. And the central bank would like to slowly wean them off their excessive reliance on its unconventional policies of recent years. As a result, the Fed would be comfortable with market volatility that is higher than the average levels of the last few years.
At the same time, the Fed dreads excessive market volatility because of its potentially detrimental effect on economic activity. For the last few years, central bankers in much of the advanced world have acted to repress such volatility as a way to boost asset prices in the hope of encouraging consumers to spend more and companies to invest more in plants, equipment and people.
The Fed's ideal would be an orderly and measured increase in market volatility to a Goldilocks level -- not too hot, not too cold. This is not what it saw this week. And it will be a challenge to achieve such an outcome in this fluid global economic and policy environment.
This column does not necessarily reflect the opinion of the editorial board or Bloomberg LP and its owners.