Economic Inequality Is Not Immoral
Comparisons with others don't teach you anything about yourself.
by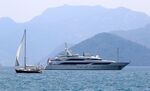 The false belief that economic equality is morally important leads people to take too seriously a question that is inherently rather insignificant -- namely, the question of how their economic status compares with the economic status of others. In this way the doctrine of equality contributes to the moral disorientation and shallowness of our time.