China's Unhealthy Obsession With Looking Good
When things go awry, the country's leaders cover up.
by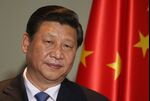 Shutting down factories and ordering cars off the road so athletes could breathe at the 2008 Olympics, now that made sense. Propping up the stock market for a military parade doesn't seem to have the same risk-reward profile.