Children Lead New Orleans's Rebirth
Schools destroyed by Hurricane Katrina were rebuilt in the spirit of innovation.
by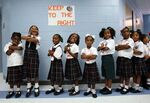 When a city goes through a tragic and traumatic shock -- whether in the form of a terrorist attack, natural disaster, violent unrest or major population loss -- the road to recovery can look endless. But the subsequent journey can also be liberating, freeing local leaders from the mistakes of the past, opening new avenues for rejuvenation, and turning what is often the most undervalued quality in government -- imagination -- into a necessity.