view
Internet Makes Gambling Easy. Too Easy.
Is online betting creating profits by enabling addiction?
by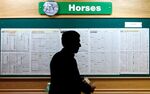 Throughout history, authorities have had a complicated and shifting relationship with gambling, treating it as a sin to be outlawed, a vice to be regulated or a pastime to be taxed. The arrival of the borderless Internet has shifted the terms yet again by making it harder for regulators to proscribe betting and easier for gamblers to get their fix.
Wednesday's announcement that Ireland's Paddy Power will merge with the U.K.'s Betfair Group to form the world's largest publicly traded online gambling company highlights the revenue growth bookmakers are anticipating from digital wagers. Less clear is what the coming boom will mean for the people doing the betting.
Here's a chart showing the income path for the two companies, using Bloomberg compilations of analyst forecasts for the years ahead:

Paddy Power's revenue alone was expected to almost triple in the seven years to 2018. On those projections, the combined company -- "a very big beast," according to Paddy Power Chief Financial Officer Cormac McCarthy -- will have annual revenue of more than 2.3 billion euros ($2.6 billion).
What's truly explosive is how online gambling has driven the Irish bookmaker's growth. Internet betting overtook business from Paddy Power's physical shops in 2009; now the digital stream dwarfs what punters pay over its physical counters, including 250 shops in Ireland and 334 in the U.K.:

Bookmakers will celebrate their good fortune, but I'll abstain. My father gambled all his adult life. Almost every day, he'd scan the horse racing lists in the back of the newspaper, and make time to visit the betting shop to have a flutter on the gee-gees, as we Brits like to say, wagering a few pounds at a time and choosing his horses more on hunches than homework.
He didn't live to see the rise of the Internet, though, with its instant access to betting forums. If he hadn't needed to physically trek to the bookies, I worry that the addictive personality I inherited from him may have turned a harmless hobby into an expensive compulsion. 
To contact the author on this story:
Mark Gilbert at magilbert@bloomberg.net
To contact the editor on this story:
Cameron Abadi at cabadi2@bloomberg.net
Before it's here, it's on the Bloomberg Terminal.
LEARN MORE