Baylor Football's Blind Eye to Violence
Everyone seemed "curiously incurious" why a player was kicked off one team and suspended from the next.
by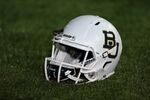 A bombshell report in Texas Monthly has exposed Baylor University's atrocious handling of a football player with a history of violence who transferred to the school. It's got everything we've come to expect from these scandals: failure to investigate, ignoring of evidence, disregard for past victims leading to an attack on another, and a complete breakdown by administrators and local press to do any sort of due diligence.