As Markets Fall, Nationalism Rises
China's leaders and Republican presidential candidates whip up support and change the subject.
by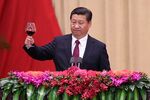 After the correction comes the nationalism. China's market meltdown portends a potentially dangerous rise in nationalist sentiment likely to be whipped up by leaders both in China and in the U.S. The motives on each side are slightly different: China's leaders need to shore up the legitimacy of Communist Party rule as growth slows, while Republican presidential candidates need to criticize the Democratic administration on foreign policy without mentioning the Middle East. But there's an underlying symmetry that's highly worrisome. On both sides, nationalism is a proven strategy for generating popular support while changing the subject.