view
Why Pat Robertson's Market Bluster Matters
He didn't mention same-sex marriage. That's big.
by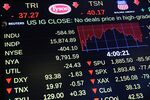 It was easy to mock Pat Robertson's assertion that abortion was to blame for Monday's stock market dive (via Political Wire). But what he didn't say signaled something serious and important.
If Robertson and other Christian conservatives are obsessing about abortion and Planned Parenthood as the most urgent abomination perpetrated by the U.S., it means they aren't obsessing about marriage -- only eight weeks since the U.S. Supreme Court decided the constitutional question in favor of equality.
Of course, many people still oppose same-sex marriage, and I wouldn't make too much of just this one example -- except that it fits in with a more widespread collapse of the active opposition to marriage equality. 
True, most Republican presidential candidates express their opposition to it when asked, and we've seen a handful of clerks try to hold out.
But no one is threatening to shut down the government over it. No one is pushing to impeach any of the justices who voted for it, and few in Congress are talking about a constitutional amendment to overturn what the court said.
The issue isn't featured prominently on the Republican candidates' websites, either. Mike Huckabee mentions it after abortion, although only abortion gets the boldfaced treatment. The story is similar for Rick Santorum. If same-sex marriage is somewhere on Ben Carson's site, I couldn't find it. And the candidates who are less focused on placating religious conservatives have backed off even more.
In other words, what we're seeing is less "massive resistance" and more find-a-way-not-to-offend-anyone-on-either-side, just-forget-about-the-whole-thing type of nonresistance. As expected, this fight is over. 
To contact the author on this story:
Jonathan Bernstein at jbernstein62@bloomberg.net
To contact the editor on this story:
Katy Roberts at kroberts29@bloomberg.net
Before it's here, it's on the Bloomberg Terminal.
LEARN MORE