Russia Won't Suffer the Soviet Union's Fate
Sure, the USSR was less vulnerable on oil. But its weakness was bigger: inflexible leaders.
by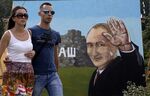 If you believe low oil prices killed the Soviet Union, it seems reasonable to wonder whether the current commodities bust will topple President Vladimir Putin or even break up Russia.