How Silver Wrecked China
In the 1930s, it was U.S. policy affecting Beijing, not the other way around.
by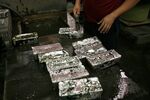 China's devaluation of the yuan last week surprised many market observers. The yuan, which is pegged to the dollar, had been rising in tandem with the U.S. currency -- in part because of expectations the Federal Reserve will increase interest rates soon. With China's economy slowing, currency markets were pressing for the yuan to depreciate, and the Chinese government, seeking to boost competitiveness in export markets, gave in to the pressure and moved the peg.