Arkansas's Mixed Religious Messages
Displaying the Ten Commandments? OK. A Hindu god? Nope. Is that constitutional?
by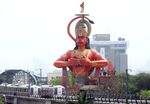 Arkansas, which is poised to erect a new Ten Commandments monument on the grounds of its state capitol, has just rejected a request by a Hindu group to erect a statue of the god Hanuman there. Constitutionally, the rejection is permissible: The U.S. Supreme Court permits the government to pick and choose what symbols it wants to project in public space. But turning down a statue of the Hindu deity with the jaw of a monkey also calls into question the constitutionality of the Ten Commandments statue -- because the government can't endorse one religion at the expense of others.