Want More Heroes? Bring Back the Draft
Military training provides tools for action. Don't more of us need it?
by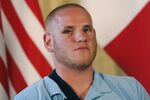 Europe's media is still abuzz with the extraordinary story of three Americans who tackled a suspected terrorist on Friday on a train in Northern France. The question being asked is this: Were they displaying a distinctly American can-do spirit?