MLB's Domestic Violence Policy Might Just Get It Right
Baseball has learned from the NFL's mistakes.
by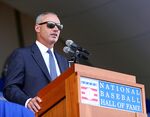 Major League Baseball has a sweeping new policy for disciplining players involved in investigations of domestic violence, sexual assault and child abuse. It was collectively bargained with the MLB Players Association and signals a significant shift from the past quarter century, when the league failed to punish a single player for violence against women despite numerous incidents.