Learn to Love the Current Candidates
The process just doesn't allow latecomers at this point.
by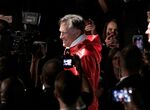 For some conservatives, 17 Republican presidential candidates aren't enough, if you can believe it. Or not enough for worrywarts like Bill Kristol, who is calling for new entrants into the party's 2016 nomination sweepstakes. There's even something of a Mitt Romney speculation revival.