Just How Sick Is the Stock Market?
Painful, yes. But so far it isn't clear the long bull run is over.
by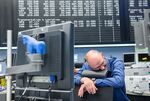 China's markets set the tone for the day (and perhaps the week) with an 8.5 percent blood-letting. Global stocks followed suit, which came after last week's 5 percent tumble.