Why I Want More Thorough Fed Audits
When the Fed raises interest rates, what happens to the value of its portfolio?
by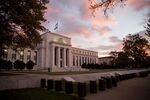 The U.S. Federal Reserve has grown massively in recent years. Since the 2008 financial crisis, it has increased its balance sheet from less than $1 trillion to an incredible $4.4 trillion. Given this sharp increase in the Fed's risk, it's reasonable that the Fed should be audited more thoroughly than in the past.