What Birthright Citizenship Meant for Me
I didn't feel much connection to the U.S. Then my daughter became a citizen.
by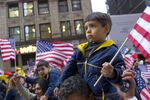 Until three years ago, my wife and I were like a lot of immigrants: Drawn to the U.S. by jobs better than what we could find at home, we saw ourselves as outsiders -- temporary resident aliens, as the government called us. Even living in Washington, I followed U.S. politics with detachment, the way you'd watch a football game between two schools in states you've never been to. When our friends back home in Canada asked if we planned to stay, we'd shrug, and joke about the weather being better.