Republicans Go Against the Flow on Immigration
Anti-immigrant sentiment comes in waves. Republicans aren't riding one.
by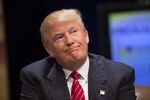 Anti-immigrant sentiment is roiling the Republican presidential primary, with most candidates taking aggressive stands against illegal immigration and Donald Trump now raising the ante with a plan for stark limits on legal entry, as well. Aside from the strains this likely puts on Republican efforts to court Hispanic and Asian voters, the fusillade seems curiously ill-timed.