Does Eli Manning Deserve 'Elite' Money?
The Giants quarterback isn't the league's best. But he's earned a big payday.
by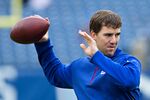 Some people are getting bent out of shape over reports that Eli Manning wants to be the highest-paid player in the NFL. Such demands make the New York Giants quarterback look "greedy" and "delusional," in the words of petulant Twitter users professional sports writers. There are at least two reasons why these reactions are childish and silly.