A Tsipras Comeback Would Be Good for Greece
The former prime minister has proved to be a master tactician.
by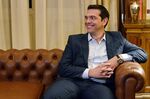 In just seven months, former -- and perhaps future -- Greek Prime Minister Alexis Tsipras appears to have undergone a remarkable evolution. In September's snap election, he will stand for the opposite of what he defended in January, when he came to power. Yet the qualities that made that possible may make him a good leader for Greece going forward.