The U.S. System of Injustice
It's deeply wrong to lock up people because they can't make bail.
by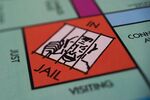 If you missed it, a piece in last weekend's New York Times Magazine -- "The Bail Trap" by Nick Pinto -- is worth your time. It describes two cases of shameful injustice. What's most disturbing, though, is the article's conclusion that America's criminal-law system simply couldn't function if such injustices, and countless others like them, were seriously addressed.