Citi Overlooked a Few Thousand Illegal Trades
It is not easy for a big bank to follow the law.
by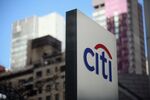 Yesterday's $15 million Securities and Exchange Commission settlement with Citigroup over a grab bag of administrative violations is objectively boring and yet I find myself fascinated by it. Big banks, as securities dealers, trade public stocks and bonds, but as relationship banks, they also have lots of secret information about the companies that issue those stocks and bonds, information that is not allowed to fall into the hands of their traders. So a major job of banking compliance is just to keep those functions separate. Citi's subsidiary Citigroup Global Markets sometimes messed that up, in ways that probably didn't hurt anyone but that tell you a lot about banks and regulation. 1  
The first problem mentioned in the SEC order has to do with Citi's loan trading. Loan trading is in some ways a weird relic. Back in the olden days, bank loans were, you know, bank loans. Companies went to banks, and the banks did lots of due diligence, and then the banks loaned the companies money. The banks had more information about the companies than the rest of the market did. Arguably the point of banks is to give money to companies based on information that the rest of the market doesn't have, and to monitor those companies more closely than the market would. And since bank lenders of course have material nonpublic information about their borrowers, as it became common to trade bank loans, the norm developed that it is fine to do so even if you have material nonpublic information about the borrower. 2  That's just how the market works.
But it's not fine to trade stocks or bonds or even credit default swaps 3  when you have material nonpublic information. That's called insider trading, and is illegal. And as bank loans became more commonly traded among hedge funds and other non-bank lenders, 4  this created a problem. If your hedge fund or bank trading desk had inside information, it could still trade bank loans, but it couldn't hedge those loans with CDS, or do relative-value trading between a company's loans and its bonds or stock. So the market responded by setting up two classes of loan investors: You can agree to be "public" for a given company's loans, and only get the same information that it gives stockholders and bondholders, or you can be "private" and have access to more detailed due diligence information. 5  But if you choose to be "private," you can't trade the company's securities; you can only trade its loans.
Citi has loan trading desks, which mostly trade loans but which also sometimes do hedging or relative-value trading using equities or bonds or CDS. If those desks want to be private on a company, they put it on the "Loan Watch List," and then they can get more information but are not allowed to trade its stock or bonds or CDS. 6  A group at Citi with the evocative name "Information Barriers Surveillance Group" 7  is in charge of making sure that the loan trading desks don't trade securities of companies on the Loan Watch List. That group gets a list of all the trades that the loan trading desks do, and checks to see if any of those trades are in (1) non-loan securities (stocks, bonds, CDS) of (2) companies on the Loan Watch List. If they are, that's bad. 
But there was a wee problem:
In 2009, as part of an examination by the Commission's Office of Compliance Inspections and Examinations, an issue was discovered with the trade reports that IBSG staff used to review trading by the loan desks: trade reports were populated by a data feed — called "LoansQT"— that contained only loan trades. Because the data feed was limited to loan trades, the reports did not contain the loan desks' securities trades, swap trades, etc. — trades that could have been prohibited by CGMI's policies. Instead, for certain issuers, the reports only contained trades in loans that were not subject to Loan Watch List trading prohibition. Upon review, it was determined that the problem had existed since 2002.
The rule is: If you are "private" on the company, you can only trade its loans, not its securities. But the way Citi checked that rule was by reviewing a list of only loan trades. So of course it never found a problem. 8  If you only review the trades that are allowed, you'll never find the trades that aren't. Bizarrely, "IBSG personnel never noticed that the reports did not include transactions in public securities and swaps." 9  For seven years. 
So Citi committed insider trading 12,000 times:
Of the loan desks' 3 million securities and swap (not loans) trades over a 42-month sample (January 2008 through June 2011), there were approximately 12,000 trades in the securities of 16 different issuers that were on the Loan Watch List at the time of the trades but were not subjected to surveillance at the time.
Oops! The SEC throws in a generous footnote pointing out that "in some of the instances, the Loan Watch List was overly-inclusive" because the desk was not in fact in possession of nonpublic information. And it didn't actually charge Citi with insider trading. I suspect that even where the list was not overinclusive, the violations would have been pretty light insider trading; it's not like private-side loan trading desks get tipped off to upcoming mergers or anything. 10  Still this is awkward.
The second bad thing that Citigroup did is a variant on the first. In addition to the Loan Watch List, Citi had a Restricted Trading List, which covered all sorts of restrictions on when Citi's trading desks could trade securities, including because of some investment banking mandates. 11  The Information Barriers Surveillance Group reviewed trades in Restricted Trading List companies' securities, based on two trading reports with the somewhat less evocative names "002" and "282." Those reports were incomplete, sometimes, due in part to design errors and in part to "a coding error that occurred as changes were being made in 2009 as a result of CGMI's joint venture with Morgan Stanley." So IBSG didn't review lots of trades, and it's possible that some of them at least violated technical trading restrictions, though the SEC doesn't outright say that, and I guess it's possible that Citi's traders were angels even when no one was watching.
The third bad thing that Citigroup did was trade between itself as principal and its investment advisory clients, without those clients' explicit permission. Apparently you're not allowed to do that. 12 The way this happened seems to be that an advisory employee would want to buy stock for a client, and would enter the order into Citi's order management system, which would then route the order to wherever Citi bought stocks (exchanges, dark pools, etc.). One stop along the route was Automated Trading Desk, an electronic market-making firm that "executed the transactions as principal at or near prevailing market prices." The problem is that in 2007 Citi bought ATD, meaning that it could no longer route its advisory client orders there. Its update to its order management system to reflect this new reality was sort of underwhelming: "CGMI instructed its employees that all advisory orders entered into a certain front-end order-entry system should be designated as such by manually typing the code 'MMA' (meaning 'money managed account')." Unsurprisingly, "employees often failed to input the MMA code." There was also an automated process that checked orders against a database of advisory accounts, but it "was ineffective because the database did not contain all of the advisory accounts. For example, recently opened advisory accounts were often missing because CGMI did not regularly update the database." Ultimately the tally was "more than 467,000 principal transactions" that weren't supposed to happen. It seems unlikely clients were harmed much, or at all, but, you know, that's not supposed to happen, and it did.
Imagine if I came to you and said: Citigroup traded in a client's stock when it had inside information due to its lending relationship. Or: Citigroup illegally traded for its own account against a client who trusted it to manage her money. Those things sound bad. You could plausibly get mad at Citi for doing them. Citi did them. 12,000 and 467,000 times, respectively, give or take. And yet ... and yet the SEC order is boring and the fine is smallish and the news coverage is brief and not particularly outraged. And that all seems about right. It would be a stretch to say that Citi's many tens of thousands of violations of the law here represent, you know, a broken culture of lawlessness at the bank. They represent a handful of computer programming mistakes. 
One thing that you sometimes hear is that the big banks, and especially Citigroup, are "too big to manage." There is a sense in which that is literally and unavoidably true. Citigroup is an organism that is too complex for any human to comprehend. You need software to even see what you're doing. If you get the software a little bit wrong, you will break the law thousands of times. 13 Oops! The SEC says:
The national market system is characterized by automated trading conducted through advanced computer systems. As market participants continue to rely on automated systems to conduct trading, reliable technology systems enable broker-dealers and investment advisers to fulfill effectively their compliance responsibilities. Technology oversight is a critical part of modern compliance, including management of the technology systems that compliance personnel use. Failure to oversee those systems adequately can lead to compliance failures and securities law violations. 
It's saying this to scold Citi for those failures, but you can feel a little bit of sympathy too. The automation makes the compliance problems harder to detect, and magnifies their number. In a sense the computers are running the bank, and Citi relies on its computer systems to follow the law as much as it relies on its traders and bankers. With the systems, as with the traders, there's always the risk of a few bad apples messing things up for everyone. 
The lesson of this case is that it's not easy for a big bank to follow the law. Bank compliance is an emergent property of a bunch of people and computers and systems working together in a carefully choreographed way. Banks break the law because individual bankers are evil or because software has bugs or because people forget to type "MMA" in a box on the order-entry screen. Some violations are evil and some are dumb and some are completely understandable. And when you read a case like this, it can seem like a miracle that it ever works at all.
To contact the author on this story:
Matt Levine at mlevine51@bloomberg.net
To contact the editor on this story:
Zara Kessler at zkessler@bloomberg.net
Before it's here, it's on the Bloomberg Terminal.
LEARN MORE