Scott Walker's Deal-Breaker, in One Word
A Republican health-care proposal crashes into a pre-existing condition.
by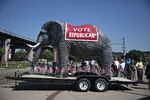 That sigh of relief you hear? It's coming from policy-minded Republicans, now that their 2016 presidential candidates are finally talking about what they'd replace Obamacare with. If they can repeal it, that is: The Affordable Care Act has withstood 56 votes by congressional Republicans to kill it off, not to mention two Supreme Court challenges.