Two Arguments for Direct Democracy: Trump and Corbyn
Swiss-style referendums would give populism an outlet.
by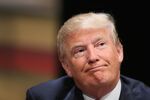 The ascendancy of Donald Trump and Jeremy Corbyn, the dark-horse candidates creating turmoil in party leadership contests on either side of the Atlantic, speaks to what's wrong with modern democracy: a disillusionment among voters that neither victory nor defeat for these two men could fix. What might help, though, is more Swiss-style direct democracy.