Iran Deal Is Shaping the Iraq War
Baghdad is giving up on keeping the nation together.
by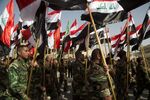 Iraq's prime minister, Haider al-Abadi, is taking severe steps to rid himself of his troublesome predecessor, Nuri al-Maliki. On the heels of a government shakeup, the latest move is a parliamentary report blaming Maliki and many of his political and military leaders for the fall of Mosul to Islamic State last summer. The report is going to be referred to a public prosecutor -- which means Abadi may be plotting a criminal prosecution. Maliki is fighting back, issuing a public statement repudiating the report.