India's Banks Need the Tools to Get Tough
To reduce the bad-loan problem, defaulters need to pay a price.
by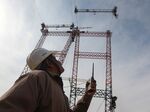 That India's banks are groaning under a pile of bad loans is no secret. Nonperforming assets account for an estimated 11 percent of their total loan portfolio, significantly lower than reeling Greece's 32 percent but around the same level as crisis-prone Portugal (11 percent) and Spain (9 percent). The fact that state-owned banks account for 70 percent of all loans in India makes this the government's problem to solve.