view
Why the Republicans Didn't Impeach Obama
I called it wrong. Boehner actually kept his majority from overreaching.
by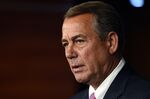 I'll take my lumps: I was wrong about impeachment.
In my defense, I never actually predicted that Republicans would impeach President Barack Obama once they had a House majority. I just thought it wasn't unlikely. But I did predict years ago that someone in the House would file an impeachment resolution at some point, and I paid attention to all the impeachment talk last summer (though by then I didn't think it was likely Republicans would go through with it).
What did I miss?
Speaker John Boehner, mainly. He's been a better House leader than I expected. In particular, he seems to have learned several important lessons from Newt Gingrich's failed tenure, including the futility of impeaching a president for no good reason.
I may also have overlooked a hint of pragmatism from other House Republicans. The lawsuit that Boehner fed them last summer was always a joke, but empowering a (Apparently Permanent) Select Committee to Investigate Anything We Want About Barack Obama and Hillary Clinton is a lot more useful to the party than an impeachment investigation, vote, trial and acquittal would have been.
Granted, it doesn't take much pragmatism to come to that realization. And setting up an infinitely expandable committee isn't a model for the way government is supposed to run. So it's not as if House Republicans have become a shining example of legislator behavior.
But, OK, there hasn't been even a hint of any movement in the House this year to impeach Obama. I was wrong to believe there was any chance of it -- and those who felt the same should fess up, too.
To contact the author on this story:
Jonathan Bernstein at jbernstein62@bloomberg.net
To contact the editor on this story:
Max Berley at mberley@bloomberg.net
Before it's here, it's on the Bloomberg Terminal.
LEARN MORE