view
Making Sense of Israel's Odd UN Appointment
A hawkish young politician, sent to do diplomacy? There must be some explanation.
by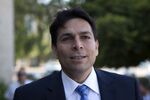 One of the most meteoric figures in Israeli politics soared higher on Friday, when the prime minister promoted Danny Danon from minister of science to be Israel's ambassador to the United Nations. The question is why.
In his mere six years in the Knesset, Danon established himself as the Likud's right-flank arch-critic of Netanyahu. When Netanyahu publicly endorsed the two-state solution in his 2009 Bar-Ilan University speech, Danon retorted that supporters of a peace deal have no place in the Likud, Israel's ruling party (ironically, the party created by Menachem Begin, who signed a peace treaty with Egypt). He opposes the creation of a Palestinian state. He has endorsed Israel's annexing most of the West Bank and suggested that Israel cut off electricity and water supplies to Gaza. Danon's critique of Netanyahu's conduct of last summer's war was so vociferous that Netanyahu summarily fired him from his position as deputy defense minister.
Danon positioned himself as an ally of U.S. presidential candidate Rick Perry during the 2012 election, and has been relentlessly critical of President Barack Obama. One shudders to imagine how Samantha Power, the American ambassador to the UN, will feel about dealing with someone like Danon. It would be hard to think of an Israeli politician who would be more toxic to both Washington and the UN.
Why, then, did Netanyahu appoint him? Some suggest that Netanyahu wants Danon banished to New York, where he can do Bibi less personal damage. Alluding to Netanyahu's personal agenda, a spokesman for Isaac Herzog's Zionist Union party, which lost to Netanyahu in Israel's recent elections, said: "This is another nail Bibi is driving into the coffin of Israel's foreign relations. … The prime minister is behaving like the lowliest job-fixer in Likud, not as a leader for whom Israel's interests are of foremost concern."
Others suggested that Netanyahu needed a cabinet slot to offer to either Benny Begin (Menachem Begin's son, widely perceived as a person of deep integrity) or Tzachi Hanegbi, the majority leader of the Knesset. Netanyahu had promised both of them cabinet positions, but has not yet made good on that promise. With Danon's slot, Bibi could solve at least half his problem. 
Whatever Netanyahu's motivation, many Israelis were appalled. "When faced with the choice between Netanyahu's narrow political interests and Israel's national interests - Netanyahu once again chose Netanyahu. Israel loses," said Ben Dror Yemini in YNet News.
Tzipi Livni, long a political opponent of the prime minister, added that the timing is particularly terrible. "Netanyahu is abandoning the state of Israel in the middle of a difficult battle in the international arena," she said. Haaretz, Israel's left-leaning paper of record, called Danon "the wrong man in the wrong place at the wrong time."
David Horowitz, the centrist editor of the Times of Israel, said, "Danny Danon, dismally, is the true face of Netanyahu," adding, "It is hard to conceive of a more short-sighted, shameful and damaging appointment than that of the Likud hawk as UN envoy."
Haaretz noted that Israel's international standing is now as low as it has been since the United Nations voted in 1975 that "Zionism is racism." Yet that 1975 vote may partially explain Netanyahu's choice. As Daniel Patrick Moynihan, then the U.S. ambassador to the UN, said when he called the resolution an "infamous act," the UN's de-legitimation of Israel had nothing to do with anything that Israel did. Israel was guilty because it existed.
Now, 40 years later, some in Israel and in segments of the American Jewish community fear that the Obama administration is simply hostile to the very idea of Israel. As long as Obama is president, some Israelis say, Israel stands alone. If Netanyahu believes that, then he may simply have decided that Danon can do little further damage – or that Danon's extremism may even make Netanyahu appear moderate.
There is another possibility. Netanyahu got his start as Israel's ambassador to the UN, where he learned how the world really works. And as Ariel Sharon once famously said when he was accused of abandoning positions he had espoused before becoming prime minister, "what you see from here, you cannot see from there."
Perhaps Netanyahu, recognizing Danon's talent, believes that the best place to learn how to speak on the world stage is … on the world stage. For his own political ends, Netanyahu appears to have sent Danon into exile. For Danon's sake and Israel's, however, Netanyahu appears to have sent him back to school.
To contact the editor responsible for this story:
Philip Gray at philipgray@bloomberg.net
Before it's here, it's on the Bloomberg Terminal.
LEARN MORE