There's Hope for Colombia. Yes, Colombia.
Investors see the problems, but also a bright side.
by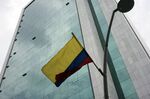 From Argentina to Brazil to Mexico to Venezuela, the largest Latin American economies are suffering from collapsing commodities prices, slowing or lost growth and widening corruption scandals.
Then there's Colombia. It has its share of trouble too. Oil is its chief export, and the 14-month crude-price collapse has pushed the peso down 37 percent and the COLCAP stock index down 53 percent. Obscured by these devastated markets, though, there's evidence to suggest that Colombia, with a population greater than Spain's and more land than France, is the dark horse among international investors.
Colombia remained the growth leader among the biggest Latin American economies even while expansion slowed to 4.6 percent in 2014 from 4.9 percent in 2013. Its growth is estimated to decline to a 3.2 percent rate this year before rebounding in the following two years, according to data compiled by Bloomberg.
Colombia's GDP Growth Beats Most Peers

The relative stability of peso-denominated debt, which shares none of the weakness of a currency that has lost most of its purchasing power since June 2014, shows there is still confidence in Colombia's prospects. The yield on benchmark government 10-year bonds is little changed from early 2014. That investor confidence suggests that the currency debacle is likely to abate, exports should rebound and the current economic setback will be temporary. The unprecedented infrastructure and housing development policies of President Juan Manuel Santos Calderon, and his commitment to secure peace with FARC revolutionaries, also augurs well.
Where's the Good News? Bonds.

In contrast, the bond market in Brazil is collapsing in tandem with the real as the yield on the benchmark 10-year government bond hit a high of 13.78 percent earlier this month.
Colombia's relative value in the bond market remains competitive. During the past three years, while the Latin American sovereign debt spread to the U.S. Treasury benchmark widened 176 basis points and Brazil's widened 157 basis points, Colombia outperformed both, with a spread of 129 basis points, according to data compiled by Bloomberg. Only Mexico and Peru did better during the period.
There's similar underlying strength in the stock market, where Colombia has been among the worst in emerging markets. While compared with 201 companies in Latin America, Colombian companies are expected by analysts to have the greatest return during the next 12 months. Investors are also showing renewed interest in the largest U.S.-based exchange-traded funds focusing on Colombia.
Among Colombian companies, banks are the most important in determining the outlook because there is no economy that can prosper without a robust financial industry. While the nation's banks have underperformed their Latin peers the past three years, they benefit from the fastest-growing interest income, loan and mortgage growth during the last four quarters and they have the lowest debt-to-assets ratio among their Latin peers.
That helps explain why economists and analysts anticipate a rebounding economy. JPMorgan analysts raised their recommendation of Bancolombia shares last month while Itau BBA analysts Ricardo Cavanagh and Johanna Castro said, "We expect banks to be resilient to the cycle, with little room for negative surprises." Colombia is an especially ripe market for banks as only 72.5 percent of its people have bank accounts and fewer than 3 percent have a mortgage, according to mortgage bond company Titularizadora and Asobancaria, the national banking association.
President Santos sees a direct connection between Colombia's prospects and the relative strength of its financial industry, which he supervised in a previous job. "The financial sector in Colombia is very strong and was able, for example, in the crisis of the year 2008-2009 to go through that crisis almost untouched," he told Bloomberg News in an interview last month. "I was minister of finance at the time. We put some very strict sort of measures and very strict conditions to the financial sector. And since then the financial sector has been improving and gaining strength."
(With assistance from Shin Pei)
This column does not necessarily reflect the opinion of the editorial board or Bloomberg LP and its owners.