A Student Loan in Every Pot
The 2016 candidates' solutions to college debt would make problems worse.
by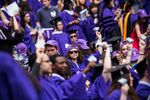 Republicans Marco Rubio, Rand Paul, John Kasich and Chris Christie all have plans or will soon. The same goes for Democrats Bernie Sanders and Martin O'Malley. Hillary Clinton joined the crowd last week with a $350 billion package of ideas.