Remembering Julian Bond
He was a man driven by conscience, unafraid to speak the truth.
by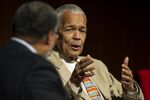 One of my keenest memories of Julian Bond is his voice. It had a beautiful tone, smooth and musical and soft. In the 1970s, when Julian was in the Georgia legislature, my mother was a top aide. I would drop by his Atlanta office now and then when home on break from college. The office was a boisterous, happy place, where phones rang constantly and constituents lined up for assistance. But when he sat down at a desk -- any desk, there was no set location -- to record his "Julian Bond at Large" radio spot, a sudden hush fell uncommanded across the room. Even the constituents stopped to listen. He always finished the recording in one take. Everyone would applaud.