China Makes Debt Burden Heavier for Others
Yuan devaluation aggravates a dollar problem in emerging markets.
by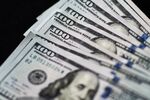 China's surprise move to weaken the yuan will have repercussions far beyond last week's market turmoil. For one: Governments and companies in emerging markets will have a harder time paying the dollar-denominated debt they have amassed.
QuickTake The People's Currency
The yuan's depreciation -- by almost 3 percent against the U.S. dollar -- triggered instability and exchange-rate declines across emerging markets. As of Friday evening in Asia, the Malaysian ringgit was down 3.8 percent from a week earlier. The Turkish lira, Mexican peso and Russian ruble also fell sharply. Here's a ranking:

The depreciations might help the countries' exports remain competitive. But they also expose a vulnerability: Over the past several years, borrowers in emerging markets have built up more than $2 trillion in dollar-denominated debt. When the U.S. currency was cheap and the Federal Reserve was holding interest rates close to zero, that debt seemed like a great deal. Now, with the dollar getting stronger and the Fed set to start raising rates, it's becoming more of a burden.
Here's a breakdown of the dollar-denominated government and corporate bond debt of selected emerging-market countries, as a share of gross domestic product (it excludes most loans, which can be significant):

If investors decide the debts aren't sustainable, they could pull out en masse, starting a dangerous spiral of declining exchange rates and financial stress that could render otherwise viable companies and governments insolvent. One can only hope that regulators are trying to understand where the resulting losses would be concentrated, and how to mitigate the potential fallout.
This column does not necessarily reflect the opinion of the editorial board or Bloomberg LP and its owners.
To contact the author on this story:
Mark Whitehouse at mwhitehouse1@bloomberg.net
To contact the editor on this story:
Max Berley at mberley@bloomberg.net
Before it's here, it's on the Bloomberg Terminal.
LEARN MORE