Making ITG's Secret Dark-Pool Trading Desk Even Murkier
Market making is fine, riskless principal trading is fine, you just have to be clear about it.
by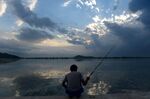 On Wednesday I wrote about the Securities and Exchange Commission's action against ITG for hiding a secret prop trading desk, called "Project Omega," in its dark pool. Project Omega used customer order information to trade ahead of customers and capture a risk-free profit. Two things I said about this were:
It was so illegal, and
It was pretty close to things that are totally legal.
I want to expand a bit on that last point. There's something weird about how the SEC describes Project Omega's strategy:
The Facilitation Strategy was designed to detect open orders of sell-side subscribers being handled by ITG via the Aleri Feed and, based on that information, open positions in displayed markets on the same side as the detected orders, and close its positions in POSIT by taking the other side of the detected orders.
Notice the words "sell-side subscribers." That is, brokers. 1  If a broker put in an order to buy stock in ITG's POSIT dark pool, Project Omega would sometimes see that order, buy the stock somewhere else and sell it back to the broker in POSIT at a higher price. But if an institutional investor came to POSIT to trade a block of stock, Project Omega's Facilitation Strategy didn't see its order and didn't trade ahead of it. Investors who accessed POSIT directly were not affected by this part of Project Omega, though they may have been affected by other bits. 2  Instead, the Facilitation Strategy only went after brokers who used ITG's algorithms to buy stock. And it only did it to brokers who used those algorithms to buy stock "aggressively" in POSIT, that is, brokers who were willing to cross the spread. (If the national highest bid to buy a stock was $10.00, and the lowest offer to sell it was $10.02, an "aggressive" buyer would pay $10.02 to buy immediately, paying the $0.02 bid/ask spread. A "passive" buyer would bid $10.00 and wait for an "aggressive" seller, hoping not to pay the spread.)
Most (not all!) of the sell-side customers were serviced by ITG's AlterNet business. 3  They used ITG's algorithms to route their stock orders to different venues, including POSIT. AlterNet is the bit of ITG that does its "net trading," or "net execution," business, in which AlterNet intermediates trades in ITG's dark pool as a "riskless principal" and charges a markup on those trades. 4  
One way to describe "net execution" would be: The broker knowingly trades in ITG's dark pool at a worse price than it could get in the dark pool. Not because the broker is an idiot, but because trading costs money, and trading at a worse price is a way to pay money. POSIT, ITG's dark pool, costs money to run. You need computers and electricity and programmers and stuff. So POSIT, like any trading venue, charges brokers access fees to trade on it. ITG, through AlterNet, also provides outside brokers with trading algorithms. Trading, in modern markets, is complicated, and you need clever algorithms to route your orders to different trading venues and make sure that you can buy all the shares you want at decent prices. Some brokers build their own, but smaller and less sophisticated brokerages frequently rely on algorithms provided by companies like ITG. Those algorithms also cost money to invent and program and run and maintain. 
ITG could charge brokers a fee for doing trades on POSIT and another fee for the use of its algorithms. Or it could do "net execution," which is just a way to reduce those fees by moving economics elsewhere. Instead of paying ITG $X to access POSIT and $Y to rent an algorithm, a broker can put in orders that sometimes end up buying stock from AlterNet at $10.02 when there's stock available at $10.00. AlterNet, as a (riskless) principal, buys the stock for $10.00, and then sells it to the broker at $10.02. AlterNet makes $0.02 per share -- the bid/ask spread -- and that profit lets it lower the price it would otherwise charge for execution and algorithms. (This is, of course, a schematic description that oversimplifies drastically. 5 ) All of this is very explicitly disclosed and agreed with the brokers.
In principle there is nothing wrong with that: Money is fungible, so paying ITG $0.02 in net execution and reducing other fees by about $0.02 doesn't do the broker any harm. The worry, though, is that the broker's client is the one paying the $0.02 -- it's buying the stock at the price the broker gets (plus a commission) -- while the broker is often the one paying the other fees. 6 Again, there is in principle nothing wrong with that either: Money is fungible, so buying stock at a slightly worse price is fine if it is offset by your broker charging you slightly lower commissions.
People do worry about it though. The worry is that there is some ... slippage ... in disclosure and understanding and incentives here. The worry is that net execution might cost somewhat more in spread than it saves in fees, and that brokers might save somewhat more in fees than they pass on in lower commissions, because the customers cannot perfectly monitor the brokers and trading venues. Here is how Pragma Securities, a firm that makes quantitative trading tools, describes net execution:
When an algorithmic broker not only operates a dark pool but has full control over a client algo order, it presents yet another level of potential conflict. Perhaps the clearest example is "net pricing," which refers to embedding a fee into the execution price. One prominent algo broker and dark pool operator offers net pricing by executing client orders at a worse price when there's a better price available in its dark pool, and interposing an affiliate who trades as a principal between the two, capturing the difference as a riskless trading profit.

But why is there a market for such a service? The trading profit captured by the dark pool operator allows it to provide free or low-cost algos to its broker-dealer clients, who pass the true cost of the service on to their buyside customers (and ultimately the investor) through what are effectively marked-up prices. The broker using the algo service doesn't mark the prices up himself, but the service he uses effectively does it for him. The broker's client, who is already paying an explicit commission, probably doesn't expect that his broker will use an execution tool that intentionally trades at prices that are less favorable than what's available (albeit still inside the NBBO).
Or maybe he does! The broker is required to get a customer's consent for a net execution, though for institutional customers this can be "negative consent," i.e., telling the customer about it and then not having the customer object. 7  If you worry, though, that the customer consent isn't always fully informed, or that even with consent the ultimate result is not always in the customer's interests, you would have some company.
Anyway this is all background stuff about equity market structure that you may or may not find scandalous. It has nothing particularly to do with the SEC's case against ITG. But it does, perhaps, help explain that case, or put it in some context. At least some of the sell-side customers using ITG's algorithms were knowingly paying ITG the spread, or some portion of the spread, to buy stock in ITG's dark pool. They knew that there would be times when there would be stock available for $10.00 in ITG's dark pool, and they would nonetheless buy that stock from ITG at $10.02, because that was part of the deal they had to pay ITG for the services it provided.
So what Project Omega did was this: When there was not stock available for $10.00 in POSIT, but there was stock available for $10.00 somewhere else, Project Omega would go out and buy the stock for $10.00, schlep it over to POSIT, and sell it to the brokers for $10.02. That is not quite what the brokers signed up for. But it is not crazily, crazily different from what at least some of them signed up for. They signed up to, sometimes, pay $10.02 for stock that ITG found for $10.00. Project Omega just made some extra efforts to find that $10.00 stock. As one securities lawyer put it to me in an e-mail, "This isn't a true prop trade, this is a mark-up trigger business."
I said on Wednesday that Project Omega's basic business -- buy at the bid, sell at the offer, provide liquidity, make the spread -- is the totally normal fine legal business of a market-maker. But: "What's bad here is that customers weren't going to ITG as a market maker. Its market-making business was secret." It was. But elsewhere, in another part of ITG, it was (and is) running a "riskless principal" business where its (sell-side) customers really were (and are) knowingly paying it (part of) the spread in exchange for liquidity. That's different. But it's related. Project Omega was terrible, but it was so very close to being fine. The problem, as so often in market structure, was not substance, but disclosure.
This column does not necessarily reflect the opinion of the editorial board or Bloomberg LP and its owners.
To contact the author on this story:
Matt Levine at mlevine51@bloomberg.net
To contact the editor on this story:
Zara Kessler at zkessler@bloomberg.net
Before it's here, it's on the Bloomberg Terminal.
LEARN MORE