India's Problems Go Beyond Noodles
The country's safety agencies aren't independent or equipped enough to handle a modern economy.
by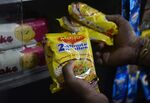 On Thursday, Mumbai's High Court reversed one of the most controversial government decisions of the year: a ban on Nestle's wildly popular Maggi instant noodles. The court's order came just as the Indian government was planning to file a $99 million class-action lawsuit against the Swiss multinational for allegedly violating food-safety norms and labeling rules, claiming that the noodles contained monosodium glutamate and excessive levels of lead. Embarrassingly for the government, it turns out that several of the world's most respected food regulators, including the U.S. Food and Drug Administration, have found Maggi noodles perfectly safe.
The court's decision raises serious questions about the competency of India's food-safety regulator, the Food Safety and Standards Authority of India (FSSAI). What's even more troubling, though, is that many of India's regulatory agencies remain unfit for a modern market economy.
Any effective regulatory agency should meet certain obvious criteria. Ideally, it should be independent of policymakers, in order to avoid any conflicts of interest, and backed by properly-framed legislation that clearly defines its mandate and powers. It should be led by apolitical figures that have some expertise in the sector they're overseeing, rather than generalist bureaucrats. It should possess all the necessary instruments to stay one step ahead of those who intend to violate the law.
The FSSAI fails to meet any of those criteria. As a wing of the Ministry of Health and Family Welfare, it's hardly independent. Its current head and most of its recent former chiefs are retired personnel from India's elite Indian Administrative Service. Worse, many of them are former permanent secretaries of the Ministry of Health; the job of chairing FSSAI is a post-retirement sinecure. Even the CEO is a professional bureaucrat, a serving IAS officer, rather than a scientist or expert in food safety.
Nor does the FSSAI appear to have the equipment and expertise to properly evaluate food safety. In the Maggi case, an under-equipped regional laboratory in the state of Uttar Pradesh first raised the alarm about the supposedly contaminated noodles. Given the product's widespread popularity, regulators should have tested samples at its most modern labs and if necessary, sent them abroad. Its decisions, after all, have a serious impact not just on the health and safety of Indians but also the investment climate in general.
Other regulatory agencies suffer from similar problems. The Directorate General of Civil Aviation (DGCA), which handles air safety, is housed in the Civil Aviation Ministry. The conflict of interest is obvious: Policymakers would prefer to see more airlines, cheaper fares and easier travel for the maximum number of Indians, which could clash with safety goals. The head of the DGCA is almost always a professional bureaucrat, an IAS officer, rather than an air-safety expert or even an aeronautical engineer. Regulators in the U.S. and European Union have questioned whether the agency has the personnel to maintain international standards. They've also raised doubts about the safety of Indian-made pharmaceuticals and cars.
Some regulators do enjoy statutory independence, including the agencies overseeing India's telecom sector and stock market. However, they fail to meet other best practices. Of India's four most recent telecom regulators, all were serving or retired officers of the IAS when they were appointed. Worse, two of the four had been the top bureaucrat in the Department of Telecommunications immediately before they were appointed to head the regulatory agency. Most figures appointed to oversee the stock market have served in the Ministry of Finance, usually in the capital markets division, which frames policy for the sector. Still, because of their statutory independence, these regulators have performed better than some of their peers.
India liberalized its economy 24 years ago. But many of its institutions -- including regulatory agencies -- predated that era. That gap needs to be narrowed without delay.
This column does not necessarily reflect the opinion of the editorial board or Bloomberg LP and its owners.