Editorial Board
Our Man in Havana
Diplomatic engagement is the best way to speed change in Cuba.
by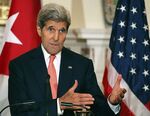 When U.S. Secretary of State John Kerry raises the flag over the U.S. embassy in Havana on Friday, it will be a hugely symbolic moment. But it will take an act of Congress -- literally -- to make substantive progress on the thorny issues that have divided the two nations for more than a half-century.
Start with the criticism of Kerry's decision not to invite a group of Cuban dissidents to the flag-raising. Kerry will meet the dissidents, and a wider cross section of Cuban civil society, at a separate reception. That's how diplomacy works.
Yes, Cuba remains a repressive one-party state, and the government maintains a vise-like grip on the economy and hard currency. But both conditions are changing, and diplomatic engagement is the most likely way to accelerate the pace of that change.
If Congress wanted to promote greater political and economic freedom in Cuba, it would drop provisions in pending appropriations bills that block funding for the reopened U.S. embassy and keep U.S. diplomats from doing their jobs. Resolving the more than 5,900 claims (worth about $7 billion) that Americans have filed for property expropriated by Cuba, for instance, would be much easier with a fully staffed embassy.
The fact is, the executive branch has done pretty much all it can with the establishment of diplomatic ties, which is the culmination of initiatives that began when Obama took office. He could tinker at the margins by revising regulations on travel, trade, finance and aid. But since the embargo on Cuba has been codified into a thicket of laws, it can't be removed without congressional action.
That would be difficult under any circumstances, and especially in an election year. Yet it's not as unlikely as one might think: U.S. public attitudes have shifted dramatically in favor of lifting the embargo. Big U.S. corporations are throwing their support behind new lobbying groups.
There are already more than a dozen bills easing restrictions, many with Republican and Democratic support, on the table in the House and Senate. Given the clout (and bipartisan appeal) of U.S. agriculture, bills that make it easier to finance U.S. agricultural exports to Cuba may have the best prospects for passage.
Few changes would make more sense, however, than quickly lifting the absurd restrictions on U.S. travel to Cuba. It's the one country that Americans can't go to as tourists. If the goal is to give Cubans more exposure to American values, then the solution is to give them exposure to more Americans.