Are You an Angry Voter? Take a Deep Breath
Partisanship makes us more emotional at the ballot box.
by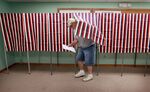 Everybody seems to think voters are furious this year. The angry voter has been blamed (if that's the word) for everything from the insurgent candidacies of Bernie Sanders and Donald Trump to the possible emergence of a third-party presidential candidate in 2016.  And although some thoughtful dissenters wonder whether Americans are quite as enraged as the news media insist, the tale of the angry voter seems unlikely to fade any time soon.