How the U.S. Will Ease Europe's Iran Sanctions Jitters
Critics of the deal see a campaign to reassure investors. It's not that simple.
by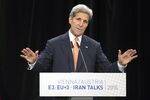 In the final days of the Iran negotiations in Vienna, America's European partners asked Secretary of State John Kerry for a favor. They wanted a letter from Kerry promising that the U.S. Treasury Department would consult European companies on what kinds of investment in Iran would be permissible after U.N. sanctions were lifted.