Anyone Remember Mike Mansfield? I Do.
In praise of a warrior, scholar, diplomat and legislative giant.
by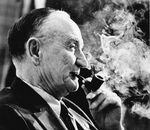 William McGurn, a former speechwriter for President George W. Bush, hailed an unlikely new conservative hero this week: Senator Charles Schumer, who opposed the Iranian nuclear deal. The New York Democrat, McGurn wrote, has a chance to become the new Henry "Scoop" Jackson, the principled and influential Cold War Democratic hawk who died in 1983.