Fixing the Chaotic Crowdworker Economy
A registry would help employers find good online workers and workers find honest employers.
by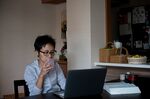 For two years, I have been part of a research team studying the lives of "crowdworkers" -- people who perform online jobs that range from tweaking algorithms, which improve the performance of search engines, to inputting and organizing doctor's visit notes. We interviewed hundreds of people in the U.S. and India who are doing the digital piecework required to make the Internet seem magically automated.