2016 Elections
Trump Writes His Season Finale
Republicans will soon have to choose between ratings and winning the White House.
by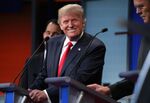 After a tumultuous weekend, Donald Trump is going to bathe in the warm waters of Sean Hannity's show Tuesday night. Hannity will be soft enough -- the candidate has been in a bromance with the Fox News host since he announced -- but Trump is beyond resurrection, except in the ratings.
Looking back, it's amazing Trump and his campaign lasted this long. When the autopsy is done,  death will be determined to have occurred Aug. 7, at 9 p.m. That was the moment when, having escaped annihilation in the first Republican debate by the skin of his blindingly white teeth, Trump took to Don Lemon's show on CNN to go after Fox's Megyn Kelly for questioning him about his record of calling women "fat pigs, dogs, slobs and disgusting animals."
He intimated that she was under the spell of her menses. "You could see there was blood coming out of her eyes," he said. "Blood coming out of her wherever."
When all hell broke loose, and he was disinvited from a conservative cattle show, he said that when he said "wherever" he meant "nose," but no one believed him.
Anyone with a lick of emotional intelligence would have left the Fox idol alone, but Trump cried like a baby at the suggestion that Kelly had gotten the best of him. It's not the crime that kills you but the coverup.
The debate reviews, including mine, said he'd survived extinction, at least as judged by his ardent followers. Kelly didn't even get to finish her question because Trump got such big laughs when he interrupted her by saying the epithets didn't refer to women in general, only to Rosie O'Donnell.  
Similarly, his failure to join the rest of the candidates in promising not to run as an independent didn't hurt him with his fan base. For them, a third party may be a dream come true. They seem willing to give up politeness and civility for vulgarity and crassness to get the point across that they're just not going to take it anymore. They confuse Trump's blind rage with justifiable anger at our dysfunctional politics.
An NBC online poll conducted after the debate showed the real estate magnate leading the Republican pack, at 23 percent. The runner-up, Senator Ted Cruz, was far behind, with 13 percent.
But the bloody comment may be changing the zeitgeist.  Those remarks infused Trump's general over-the top misogyny with an uber-ick factor: Women remembered hiding their periods as girls and beyond. Men just wished he would shut up. There were good reasons it took so long before "personal products" could be advertised on television.
Do we want a president who erupts in rage with the frequency most of us check our e-mail? No, was the answer from one of the most influential conservatives, Erick Erickson, editor of Red State Blog, who disinvited Trump from the gathering of conservatives in Atlanta. Erickson said his wife and daughter would be present and the Donald's comments implying Kelly's conduct was "hormonal" were a "bridge too far." 
Trump immediately tried to tweet Erickson into oblivion as "a total loser" with "a history of supporting establishment losers in failed campaigns." 
The tycoon also resorted to the "I-know-you-are-but-what-am-I?" defense, criticizing Erickson for calling feminists "ugly women who can't get a date." For good measure, he insisted he didn't want to go to Erickson's party anyway.
Before Trump could pick a similar fight with Fox News Chairman Roger Ailes, the two made up on Monday. Although Ailes said coverage of Trump would be "fair," this wasn't peace at any price. The network has the upper hand because it made Trump and can unmake him, too. Ailes likes all Republicans, when compared to Democrats, but not when compared to each other. He thinks of himself as a crucial winnower and Fox fawned over Trump because in the short run it was good for business. Ailes got what he wanted: The debate drew 24 million viewers, the biggest U.S. audience for a cable telecast other than a sports event.
But Trump was always a depreciating asset Ailes would drop when the need to get a Republican back in the White House outweighed mere ratings. And Trump is hurting the brand and getting conservatives, particularly female ones, mad at Fox. The Republican Party was no friend of women pre-Trump, but now it will be a challenge to match Mitt Romney's paltry share of that vote in 2014.
If it comes down to a choice between women and Tea Party voters, women are going to come out ahead. At some point soon, the Republican Party is going to have to insist that the nomination process is more important than the race for television ratings. The Donald has already provided the ammunition to keep him off the stage by threatening to go third party (however empty the threat).
So thanks, Donald. We'll have you on when we need to goose ratings but Fox will soon start looking for the one who can deliver the White House.
Republicans brought this nightmare on themselves. They've fostered hatred of President Barack Obama and tolerated crazies in their party. The result is 17 candidates for the nomination, making it easy for the person who best channels the party's furious wing and shows a knack for shameless self-promotion to get the most attention. 
As he blackballed Trump, Erickson said, "There are just real lines of decency a person running for president should not cross."
Republicans -- and everyone else -- may one day consider themselves lucky he crossed the line sooner rather than later.
This column does not necessarily reflect the opinion of the editorial board or Bloomberg LP and its owners.
To contact the author of this story:
Margaret Carlson at mcarlson3@bloomberg.net
To contact the editor responsible for this story:
Max Berley at mberley@bloomberg.net
Before it's here, it's on the Bloomberg Terminal.
LEARN MORE