The Wrong Way to Make a Trade Deal Public
Paying a thief to leak the terms? It's practically bribery.
by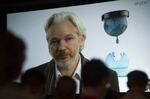 There are plenty of good reasons why prominent leftists and libertarians on Tuesday launched a campaign to collect 100,000 euros ($110,700) to reward whomever leaks the details of the trade deal the U.S. and the European Union are negotiating. It's a scandal that the document,  the text of the Transatlantic Trade and Investment Partnership, hasn't been released to the public. I won't pledge a cent to the effort, though: I don't want the document to be bought from a thief.