Jeb Bush's Recipe for Disappointment
A 4 percent goal for growth sounds nice. It isn't.
by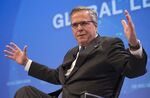 "I think we need to lift our spirits and have high, lofty expectations for this great country of ours," Jeb Bush said in last week's Republican presidential debate. The former governor of Florida (full disclosure) was being questioned about an ambitious goal he has set: As president, he'd aim to achieve 4 percent economic growth.