China Escalates the Currency Wars
A rising dollar and a falling yuan spell pain for Chinese and American companies.
by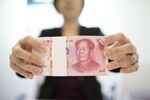 China's shock move to trigger the biggest one-day decline in its currency for more than 20 years is evidence that the currency wars are still live. It's also a timely reminder that the Federal Reserve's seeming determination to raise interest rates next month risks propelling the dollar even higher, to the dismay of U.S. companies already struggling to maintain exports.